Next Concerts:
Bonniesongs Saturday 18th July, 2020. 7:30 p.m.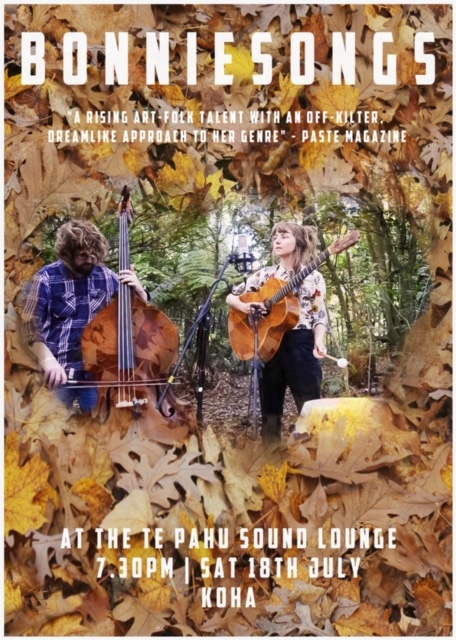 Art-folk virtuoso Bonniesongs, aka Bonnie Stewart, released her debut album Energetic Mind in September 2019 via Small Pond and Art As Catharsis. The album has been proclaimed as one of the top albums of 2019 by Nialler 9, Gold Flake Paint, Low End Theorists, and many more. While previously described as "dreamy experimental indie folk", Energetic Mind sees Bonniesongs exploring heavier and darker material while also retaining the charm of her earlier releases. Bonnie explains "I think the album is a balance of this ethereal soft sound but also a lot of darker grungy undertones have crept in".
Energetic Mind singles 'Coo Coo', 'Ice Cream', 'Barbara', and 'Frank' have garnered international radio plays from BBC Radio 6, Triple J, FBi Radio, and RTRFM, as well as press coverage from Paste Magazine, London In Stereo, The Line of Best Fit, CLASH, Tone Deaf, Everything Is Noise, Overdrive Magazine, and a host more.
"Immersive indie-pop…wonderfully evokes the kind of sedated joy that comes with an abundance of sun"

The Line of Best Fit
"Her imagination is splashed so vividly across her music and she delivers what few artists are at the moment."

Podcart
"some wonderful, magical arrangement in here. it's a quirky one that shimmers with beauty."

Declan Byrne Triple J Unearthed

"Captivating emotive and atmospheric depth…her songs hold a striking narrative potency"

London In Stereo
Website: bonniesongs.com
---
Good Habits – Saturday, 26th September, 2020. 7:30 p.m.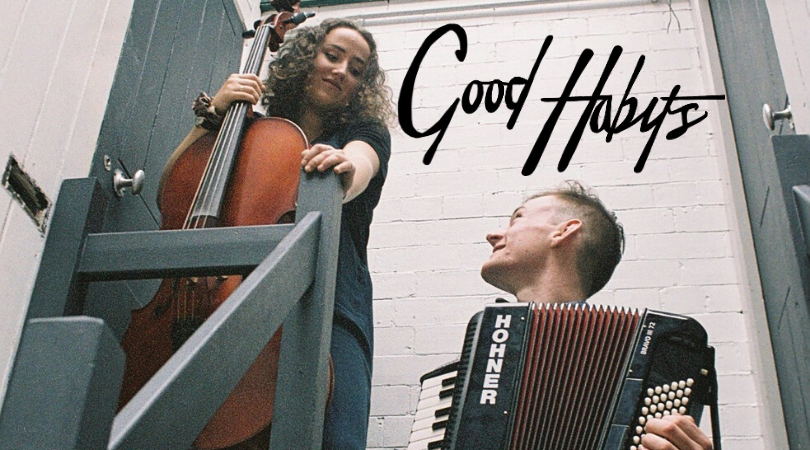 Good Habits are an eclectic indie-folk duo from Manchester, UK formed of Singer-Cellist and Songwriter Bonnie Schwarz & international Klezmer accordionist, Pete Shaw.
Fusing folk and jazz within their original songwriting, the eclectic duo present an upbeat yet intimate sound-world of musical storytelling.
"The tightness and precision of their playing together made every song a gem" –

Fresh FM


'An impressive, interactive show' –

The Mancunion
As an award winning composer and sound designer, Bonnie has worked with Manchester and London's most established theatres, creating new and innovative sonic experiences.
Pete is an experienced performer who bases his style around many different folk influences; from Irish to Klezmer, Pete has performed around Europe and the United States of America.
Website: bonnieschwarzmusic.com/goodhabits
---
A Venue for House Concerts
Admission by invitation, for tickets please email Wayne & Paula
We're pleased to offer our home to present live music in Te Pahu. As well as concerts we've also enjoyed theatre performances and art exhibitions.
We've been entertained by a wide range of musical styles – and been wowed by the amazing skills and musicality of the travelling minstrals.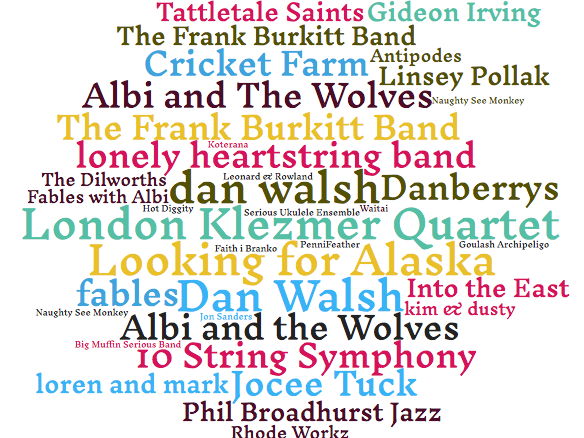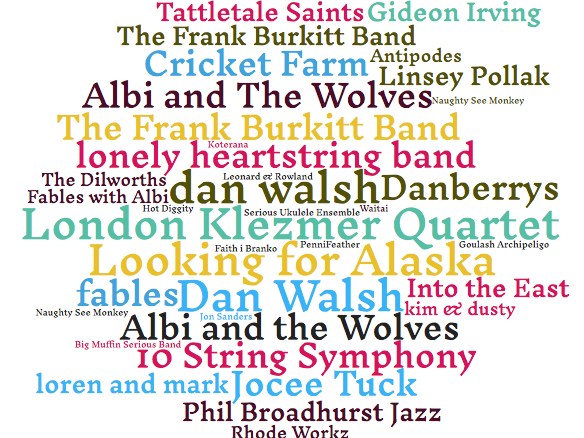 It's the home of Sylvia's Toaster ukulele band, and practices are held here most Wednesdays.
When not in use for performances the room is our lounge – however it was built for use as a small theatre, music room and library. There are good acoustics by way of its shape and use of irregular sized timber, and shelves of books. There's a projector and stage lights. Seating is casual – lounge suites, chairs, some old theatre seats, beanbags and carpets.
Audience size has ranged from about 15 to over 80. Entrance is by donation – all proceeds go to the performers.
There is a housetruck, small caravan and room available for accomodation.
Admission by invitation, for tickets please email Wayne & Paula
Here are flyers and photos from some of the shows
Enquiries to Wayne & Paula
SaveSaveSaveSaveSaveSaveSaveSaveSaveSaveSaveSaveSaveSaveSaveSaveSaveSaveSaveSave
SaveSaveSaveSave
SaveSave
SaveSave
SaveSave
SaveSave
SaveSave
SaveSave
SaveSave
SaveSave
SaveSave
SaveSave
SaveSave
SaveSave
SaveSave
SaveSave
SaveSave
SaveSave
SaveSave
SaveSave
SaveSave
SaveSave
SaveSave
SaveSave
SaveSave
SaveSave
Save