… formed in June 2002, our vision is to protect and enhance Te Pahū's natural indigenous environment and recreational opportunities through community awareness and involvement for the benefit and enjoyment of everyone.
for more info on our vision, goals and projects please click here
We have started trapping rodents (ship rats and Norway rats) and possums along the Kaniwhaniwha stream. You can see our results on Trap.NZ here: https://trap.nz/project/2953556/info As at 8th February, we have removed 187 pests, which is pretty impressive, since we only started in August 2020. If you would like to get involved, please contact Nardene on landcare@tepahu.co.nz
Monthly weeding sessions for 2021: We will start at 9.30am and finish at 12pm. We meet at the Kaniwhaniwha Reserve carpark. Everyone is welcome to attend.
Sunday 21st February
Sunday 21st March
Sunday 18th April
Sunday 16th May
Sunday 20th June
Sunday 18th July
Sunday15th August
Sunday 19th September
Sunday 17th October
Sunday 21st November
Seed Collection. Information from the Department of Conservation on native plant species and their seed collection times, here.
Tony Fraser Memorial Seat: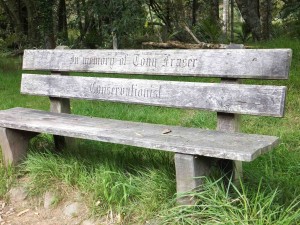 This seat was created by the Te Pahu Landcare group in memory of Tony Fraser in August 2008 – Tony had the initial idea of starting a care group in Te Pahu. Many thanks to Daryl for the construction and placement of the seat, as it is enjoyed by many visitors to the Reserve.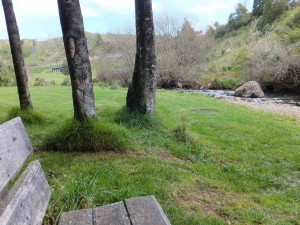 view looking to the left
view looking ahead.
view to the right.
Bio-control agent tradescantia leaf beetle (Neolema ogloblini) release in Karamu Reserve
Thursday 14th April 2011 Opening the container:

During the release:
Two of the next generation of the Te Pahu landcare group were involved in the first release of the bio-control agent tradescantia leaf beetle (Neolema ogloblini) in an effort to control Tradescantia fluminensis (wandering willie) in the Waikato Region today.
Further info on the beetle here:
Thanks to staff at Waikato Regional Council, Te Pahu Landcare group members, Paul Etheredge and Martin Dew, Pest Plant Control Contractors Chris Hale and Philip Mabin and the NZ Landcare Trust.
For further details please contact Nardene Berry
How can I help?
1) Come along to our monthly weeding sessions (days and times above). Or, if you're going for a walk along the Nikau walkway during spring and summer and you notice the bind weed is really bad, climbing up the native plantings and smothering them, please stop for a rest and untangle the bind weed from the native trees for a few minutes. It's a very satisfying job and only takes a few minutes to make a positive difference. If everyone who walked along the Nikau walkway did this, the bind weed wouldn't be so bad.
2) Buy a rat trap and start to use it at home. Anyone trapping rats is helping our native biodiversity and easing the pressure the birds are constantly under.
3) Volunteer to help our group with clearing and resetting the traps we have along the Nikau walkway. Get in touch to get involved.
A map/inventory is being produced to provide a resource of information on the natural and historic features of the Te Pahu district. View it here Do you know of interesting natural or historic features of the Te Pahu district that could be marked on the map?
If you have a stand of kahikatea trees on your farm, you might like a copy of the pamphlet on kahikatea recently produced by Waikato Regional Council
Te Pahu Landcare Group Chair, contact Nardene landcare@tepahu.co.nz