Leading the way …
Over the last 20 years nine land-owners in the Te Pahu district have protected a total of over 60 ha of native forest with QEII or other covenants, ensuring they will continue to be havens for wildlife and contribute to the scenic values of the district into the future.
Some landowners have fenced waterways on their properties from stock, and some also planted stream margins with native trees, improving water quality for wildlife and downstream users.
Watch this two minute video from NIWA highlighting the importance of riparian planting for insects.  The featured stream is in Te Pahū.  Nice work Rick and Di.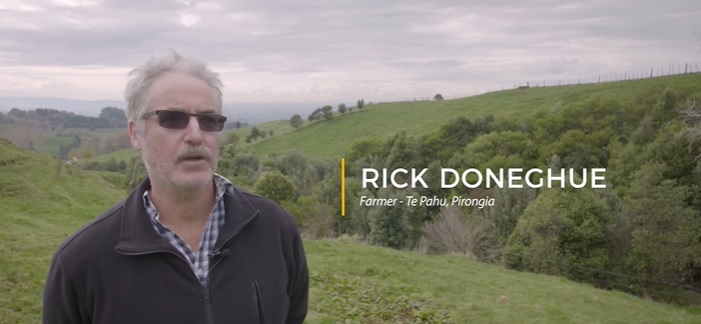 Since the beginning:
From bare ground, the Nikau Walkway has been planted in native trees from the start of the walkway to the bushline. This has occurred in association with the Department of Conservation. Below are some pictures of the planting day in 2002 with a good number of people helping from the Te Pahū district: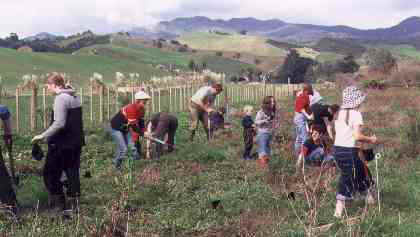 The walkway is certainly different today, with the native plants near the start of the walkway towering above you as you walk along.
Whaingaroa Harbour Care received funding in 2006 to help DOC and the Te Pahū Landcare group with planting and fencing along the Nikau walkway. We hold community planting days, which everyone is welcome to attend.
Karamu Reserve:
In 2006, the Landcare group marked out some plots to trial different methods of weed control. There is a control plot, a hand weeded plot, a sprayed out plot and a raked plot. If anyone goes into the Reserve, it would be good to monitor these plots. Contact the group for more information.
In a different part of the Reserve, we have also trialled the use of chickens for weed control (mainly Tradescantia fluminensis or wandering willy). Unfortunately, while the chickens did a great job of scratching through the tradescantia to create bare patches, nothing apart from other weeds came up. We tried replanting a small area, but our planting was not dense enough, and the tradescantia fluminensis is back, worse than ever. And, whereas before we may have had only one or two plants, now we have thousands, if not hundreds of thousands of fragments that the chickens have scratched up, and have regrown, so to remove by hand will be a massive, if not, impossible, job.