Haere Mai and Welcome to Te Pahu Pre-School!
Our fantastic Pre-School is in the heart of a wonderful rural community. Overlooked by Mount Pirongia and just 30 minutes from Hamilton, we offer a small, friendly, early childhood service to Te Pahu and the wider community.
We welcome prospective new families to come along and see our facility and chat to our teachers and parents. Contact us to arrange a suitable time or feel free to call in during opening hours. Alternatively, you can email us and we will send you an enrolment and information pack.
Te Pahu Pre-School                                                                                                            731 Te Pahu Road                                                                                                            RD5                                                                                                                            Hamilton, 3285
Telephone: 07 825 9908
Email:
tppreschool@xtra.co.nz
 Opening Hours:
 Monday – Thursday: 8:45am-2:45pm                                                                        Friday: 8:45am-1:00pm
Children aged 3-6 can attend full days and 2 year olds until 1:00pm daily. Extended afternoon sessions Monday to Thursday (1:00pm-2:45pm) for 3-6 year olds allows for smaller group work and for the teachers to focus with these children on readiness for school.
3-6 year olds
are eligible for up to 28 hours free ECE however, there is a small fee of 
$1.00 per session
for shared food, baking ingredients and associated kitchen costs. For 
2 year olds
there is a charge of just 
$5.00 per session
. You may qualify for a 
WINZ Childcare Subsidy
to assist with this cost. For more information click
here
GROWING AND LEARNING TOGETHER

We are very fortunate to have four fantastic,experienced and fully-qualified early childhood teachers who bring a range of skills and experiences to our Pre-School. They provide a range of activities for the children which include sensory play (such as sand & water play and a range of messy play experiences); creative arts; problem solving (such as puzzles, construction games, sewing); baking; role play; mat time; outdoor play; Te Reo and Tikanga Maori; maths, literacy and numeracy skills; self help skills and regular trips and visitors. Previous trips include visits to Te Awamutu Police and Fire Stations, Waikato Museum, Pirongia Forest Park, Hamilton City Gym and the Cambridge Bike Park. We believe these trips are of great value to the children's learning, helping to expand their interests and experiences. We also work closely with Te Pahu School so that by the time children start school they have been involved in transitioning for 8-12 months and adjust easily into the school environment.
BEING A PART OF YOUR CHILD'S EARLY CHILDHOOD EDUCATION
At Te Pahu Pre-School you have a wonderful opportunity to play a real part in your child's early childhood education. As a not-for-profit, community organisation, our parents form the management committee that runs Pre-School, assists with special events, maintains our grounds, runs our fundraising. Without their support we could not operate. Likewise our local community supports us through many initiatives including fundraising, project work and sharing their experiences and skills with the children. In bringing families together, helping to strengthen bonds and link a range of local networks, Pre-School is at the heart of our community. We encourage our families to play an active role in Pre-School but how much time you can and want to commit is up to you. Being a small not-for-profit Pre-School we are able to offer flexibility and have a good understanding of the needs of a rural community and the unique needs of our children and their families.Te Pahu Pre-School is a place for learning; sharing interesting, challenging and developmentally appropriate activities and a place to feel loved, nurtured and respected. We want each child to leave Pre-School with a positive and happy attitude to life and learning and with all the important skills necessary to grow and develop and learn successfully in future environments
.
"Children are developing as confident, competent learners in a caring community where each child's individuality is valued. Children experience a rich programme that supports their developing skills, knowledge and attributes."   
ERO April 2010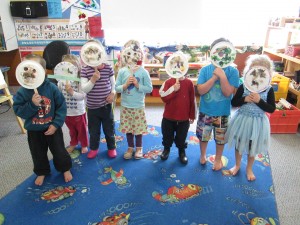 Useful links and downloads
Visit our Facebook page to find out what we have been doing at Pre-School.
We have reports available on the Education Review Office website. You can read our most recent 2013 ERO report or download a PDF copy here. Read the 2010 report here.
The Ministry of Education website provides information on the Early Childhood Education Curriculum, Te Whariki.